The most significant aspect of your Hospitality website is to capture the imagination of potential guests and to convince them you are the place to book their stay. Creating an engaging experience as quickly and effectively as possible is a crucial step to achieve this. Creating a vicarious experience when a potential guest looks at your site will increase their potential to book with you to experience the real thing.
Images play an essential part in showing your potential guests what they should expect if they book with you. You have probably heard the phrase 'A pictures worth a thousand words.' This statement has been around since the early 1900s and still holds today; most content online being viewed is either photos or videos. So when potential guests look at your website, they are drawn to your images and will probably consider your location based on their impression alone. Most potential guests using 'Direct Bookings' will look at an average of 10 places before making a choice where to book. So you have a limited window to capture their interest and convince a potential guest to book with you–and not your competition.
So how do we capture the right emotion and experience in our images to get those bookings?
Many elements go into a compelling image. In this series of articles, we are going to focus on the essential elements of drawing your potential guest into a captivating experience.
Impact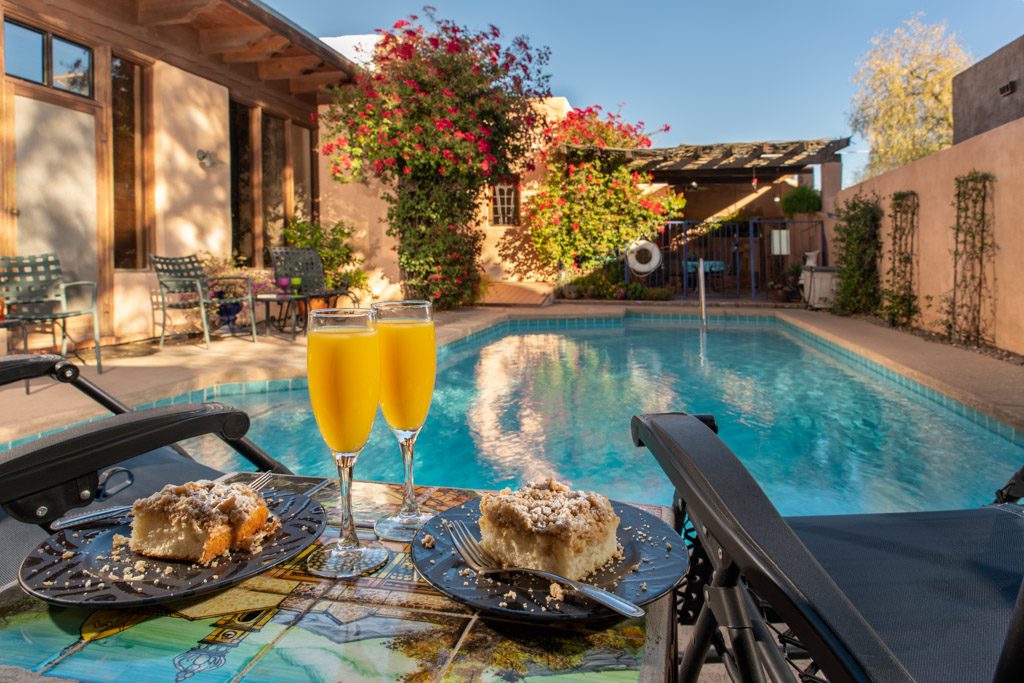 Moment – Tell Your Story
Setting the stage for an experience depends on a critical aspect, and that element is Moment. Currently, storytelling is a compelling topic in the social world today. So much so that most of the major social platforms now have a story mode to quickly and efficiently share your story. In hospitality, this is something I believe is very underutilized.
As an innkeeper, you have a fantastic opportunity to unlock that potential to tell your story with your prospective bookers. You can share with them what your place is about to help them imagine telling their story at your inn. A great way to do this is through the element of Moment. To capture a genuine Moment, set a scene that gives the appearance of someone just about to enter in and enjoy. Achieving this can be done in many different ways.
Depending on the scene, you may want to provide a breakfast plate setting if taking a shot of the breakfast nook. Set up a place setting and then arrange items that imply a guest was just there or will be back shortly. To get this effect, try placing a fork on the plate or toss a napkin down as if someone just stepped away for a moment. Another option if you are trying to capture a swimming pool. Try placing a pool toy in or around the swimming pool, a towel tossed over a chair or a pair of sandals. When adding items to the scene, you want to be careful not to over-utilize props. Overcrowding is really easy to do and can become too distracting or unrealistic in the final image. Using the concept of less is more is a good practice when it comes to the addition of props and activity.
Below is an example of a Moment where we see two different bathtubs. The first is a plain white tub with no water, with no action of any kind to express the immediate use of the room. Whereas with the Copper Tub, we have set up a scene that captures the anticipation of someone just about to step in and enjoy the experience.
The simple addition of a towel, a glass of wine, along with the tub being filled with water, captures that moment right before you would expect to see someone enter the scene. It was said in a recent post, "The running water in the tub makes all the difference!!!! Seriously does!!!!" I agree with this sentiment as the running water conveys action and a believable event that the tub is being utilized. The final scene conveys the emotion to the viewer, lets you tell your story, and encourages them to book with you to experience that Moment with you at your inn.